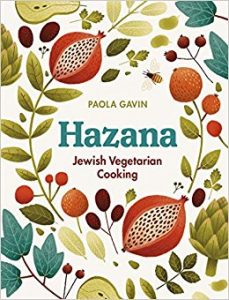 If you or your family are inspired by Veganuary (the push for people to go vegan this month) or even simply reducing their meat intake, don't panic over menu-planning. Help is at hand.
Food writer Paola Gavin, a vegetarian for all of her adult life, has a new book out called Hazana (Quadrille Publishing), packed with beautifully photographed meat-free, Jewish vegetarian recipes from around the world.
Gavin explains that she chose the name because "it means nourishment in Hebrew. I think it also expresses a feeling of joy that goes well with Jewish hospitality."
Although she has been writing vegetarian cookery books since 1987, this is her first specifically Jewish book. "I have been collecting Jewish recipes for years — in fact I found so many delicious, traditional Jewish vegetarian recipes, I realised I had to put them all in a new book."
Click here to read the full story on the Jewish Chronicle website.
Don't miss Paola's recipes (from Hazana) for Algerian pomegranate and rum salad, Greek slow-cooked white bean soup with tomatoes and chilli, Syrian beetroor salad with pomegranate molasses and sesame.