The Plant-Based Paradise: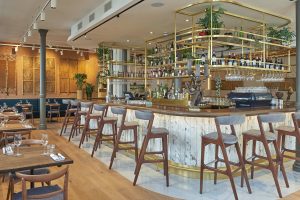 With the plant-based revolution on the rise, what better place to visit this Vegetarian Week than Farmacy, in Notting Hill. Forget the boring stereotypes so frequently associated with veggie cafes, Farmacy is London's leader of haute-vegetarian vibes. Offering an array of delicious plant-based dishes in a stunning, stylish environment with great music, cosy booths and a bar serving a selection of refreshing cocktails, organic wines and fresh juices and smoothies – it's a one-stop plant-based paradise.
Featuring healthy choice comfort foods such as the signature "Farmacy Burger" and plant-based ice cream sundaes – even your friends wanting to indulge will be sure to find something to suit their appetite. Needless to say – if you do fancy a salad or spirulina soup – those more virtuous options are also available.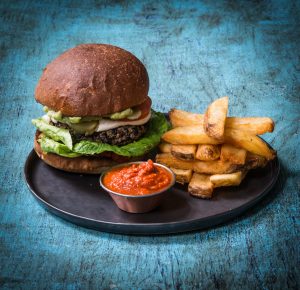 Innovators in apothecary Farmacy also offer other unusual elixirs such as their Farmaceutical Syringe Shots [one of which contains Cannabidoil], an array of home-brewed hot drinks [a few that contain medicinal mushrooms].
Farmacy is run by Camilla Fayed and team.  The menu is inspired by dishes from around the globe and in addition to supporting both a vegan and vegetarian diet, is free-from dairy, refined sugars, additives and chemicals.
FARMACY, 74 Westbourne Grove, London, W2 5SH
—
The Wild Card Option: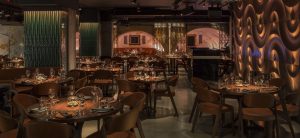 This Vegetarian Week, Mayfair's late-night hot-spot, MNKY HSE, acts as a wild card not just because of it's jungle ties, but because, despite its eclectic menu featuring an array of Latin-American delights, they also serve the most mind-blowing of melon dishes.
The MNKY HSE 'Melon' is served chilled and marianted in a peppermint and Chlorophyll jus. Greener than the Amazonian tree-tops, vegetarians will be sure to go ape for this perfect palate-cleanser!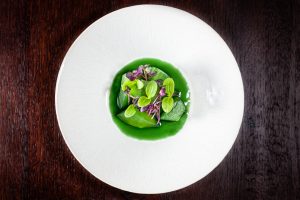 MNKY HSE on Dover Street, brings a vibrant blend of London funk and Latin spirit to Mayfair. Serving high-quality, contemporary Latin American food and drink, alongside DJ performances.
10 Dover Street, Mayfair, 
—
The one that creates cakes from Vegetables: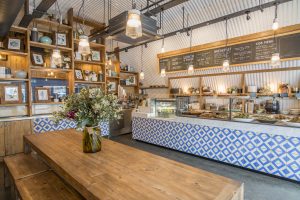 For your perfect vegan-friendly pick-me up this Vegetarian week, head to Mae Deli – where even your cake counts towards your five-a-day. The Fudge Brownies at The MaE Delis and The Kitchen Counter are legendary. Available to have in or take away, these bites are a great way to round off a lunch or as a snack throughout the day. Deliciously Ella has created a special recipe for brownies, putting vegetables centre stage with new and improved sweet potato brownies.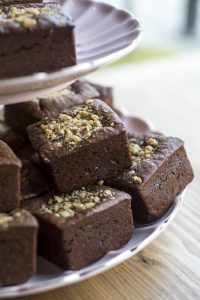 The MaE Deli was founded by Ella (Deliciously Ella) and Matthew Mills at the end of 2015, celebrating delicious, natural foods created from simple ingredients. In March 2017, The MaE Delis were joined by a third site, The Kitchen Counter, the ideal spot for the ideal spot for grab-and-go morning coffees, lunches, brunches and healthy, light dinners.
The MaE Deli: 21 Seymour Place, London, W1H 5BH
The MaE Deli: 18-20 Weighhouse Street, London, W1K 5LU
The Kitchen Counter: 288-290 Milkwood Rd, London, SE24 0EZ
—
The Michelin Star Option: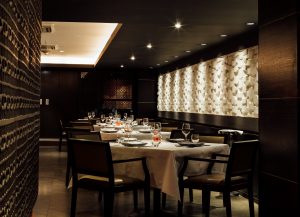 Benares, the Michelin-starred Indian restaurant in Mayfair's Berkeley Square is celebrating National Vegetarian Week with their Tandoori Khumb and Hara Phool. The dish features a Portobello Mushroom with edamame, tandoori broccoli, coconut and curry leaf sauce. Created by Chef Patron, Atul Kochhar, the dish showcases his talent for pairing complex and subtle flavours and his love for vegetables.
12a Berkeley Square House, Berkeley Square, Mayfair, London W1J 6BS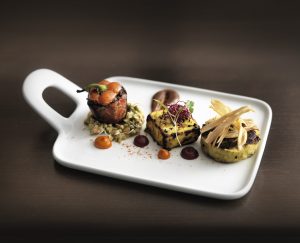 —