Last week, Israelis woke up to hundreds of billboards and radio commercials across Israel, encouraging them to avoid dairy consumption during the holiday of Shavuot, countering the endless promotions and commercials of dairy companies.
As Israeli households are about to celebrate the holiday of Shavuot which is associated with dairy foods (a two-day holiday that starts in the evening of June 4, in celebration of God giving the Torah to the people) Freedom Farm Sanctuary launches a new campaign to encourage people to refrain from purchasing dairy products this coming holiday, thereby saving thousands of animals in the food industry and reducing the environmental impact of the dairy industry on the planet.
Thanks to successful crowdfunding and a generous donor, for the next couple of weeks, the non-profit organization will counter the endless commercials of dairy companies to restore the true meaning of the holiday of Shavuot and celebrate Matan Torah as the Festival of First Fruits, also known as the Harvest Festival.
Freedom Farm Sanctuary is taking its message from its fields, filled with animals rescued from the food industry to the streets with hundreds of billboard signs in Tel Aviv, Jerusalem, and Haifa, including the major inter-city highway of Ayalon.
The popular signage displays an image of a cow confined in a green vehicle, followed by a caption that resembles a well-known children's song, spreading the message that Shavuot isn't even a dairy holiday and encourages the public to stop dairy consumption and save thousands of cows and calves.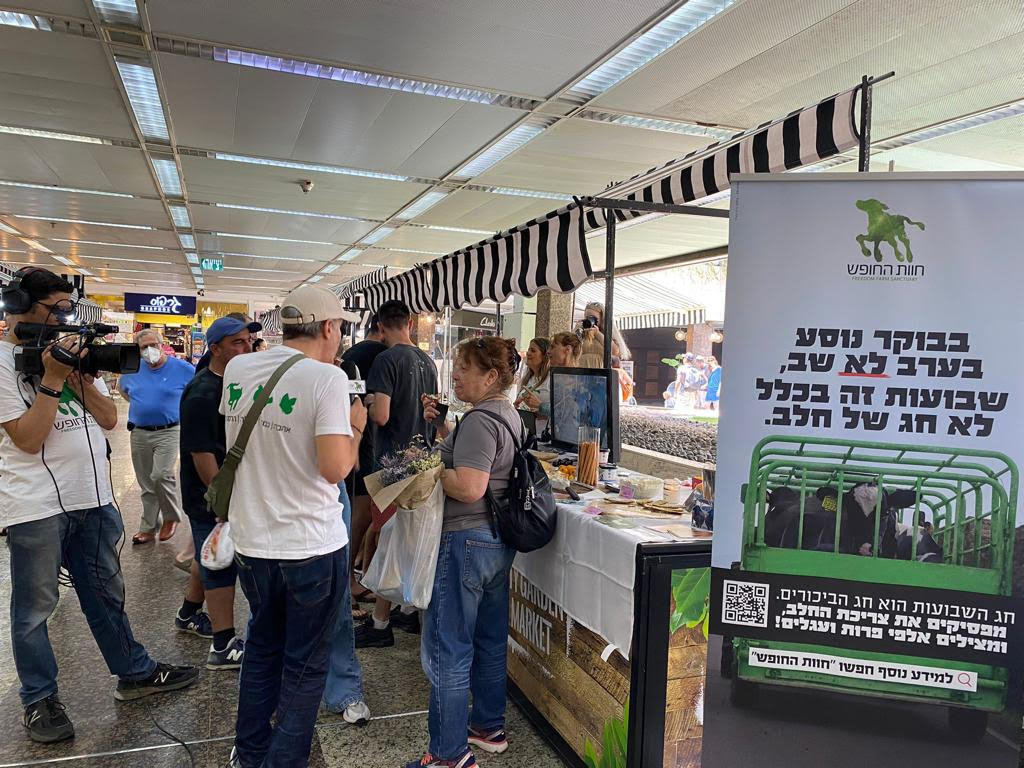 Moreover, FFS will hand out delectable vegan dairy alternatives in Tel Aviv while engaging residents in discussions about the price the animals, our health, and Planet Earth pay as a result of dairy consumption during Shavuot.
Adit Romano, Freedom Farm Sanctuary's co-founder, explains: "Unfortunately, over the years, dairy companies have invested millions of shekels in commercials, songs, and fictional tales to convince people that Shavuot is a dairy holiday. Every year these companies set out to convince us to consume dairy products, and FFS is the first to come forth and clarify that according to the Torah, Shavuot isn't even a dairy holiday. In addition, many of us are unaware of the environmental harm and the misery and pain the dairy industry is causing, therefore, we must inform the public of the heavy price the cows and calves pay during this holiday."
"Freedom Farm Sanctuary's work is to expand the circle of compassion towards animals. Our most fundamental motivation is the love of humans and recognition of the inherent good in every one of us", says Meital Ben Ari, co-founder of the organisation.
Watch the YouTube video Shavuot Campaign here
—
Campaign ad credit: Shavit ve Zehu
Ad photographer: Barak Mayer