By: Kohenet Yael Tischler
Vegetables for breakfast isn't just a cookbook, it's an entire philosophy of eating. The subtitle of the book is "Change your breakfast, change your life," and for author, food blogger and chef Nancy Wolfson-Moche, this idea underpins the entire cookbook, which is really more of a work of art. Reflecting on the changes she made when she was hoping to become pregnant as a woman considered "beyond childbearing age" by Western medicine, Wolfson-Moche says, "I asked myself which dietary or lifestyle modification had made the biggest difference in my condition and my life. The answer was, without question, the addition of a vegetable dish to my breakfast each morning." And so, Wolfson-Moche has pulled together a series of healthy, creative, seasonal, delicious and nourishing recipes that encourage us to integrate vegetables into our first meal of the day.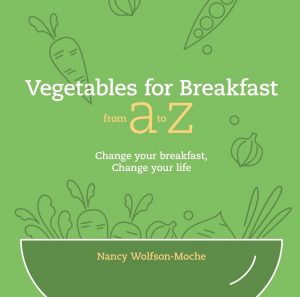 The recipes themselves, which are mostly vegan and entirely vegetarian, are absolutely stunning. I particularly liked the look of the Italian parsley & edamame hummus, the Jerusalem artichoke, parsnip & fennel pancakes, the onions & shitake on a tofu pad, and the yellow carrot nori rolls. The book is formatted with useful icons that help you figure out quickly what season the recipe is best for, how long it will take, what parts of the vegetable you can eat, what a dish goes best with, and more.
In addition to recipes, the book includes fun facts about vegetables, philosophical quotes and folktales about food and even a section on eating as a meditative practice. As a Jewish foodie, I was especially pleased to encounter the following, excerpted from a Jewish folktale as retold by Yitzhak Buxbaum:
Once Malka saw a young man eat hurriedly in a gluttonous manner. She said to him, "Do you know how many prayers were sent on behalf of this food? The seeds prayed they might be received into the earth and sprout. Then they prayed that if heaven decrees a blight, they be spared. Later, at threshing time, when many grains are lost and others carried off by the wind, they prayed that nothing be lost. Still later, the grains pray that they will be elevated when the person eating them makes a blessing. But if, after all this, one eats in a lowly way, one spoils everything.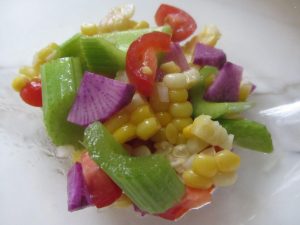 This book is nothing short of a revelation, including even a section on how one might use vegetables beyond merely eating them (as musical instruments or first aid materials) and a chart that helps you assemble your own healthy vegetable-centred breakfast. Vegetables for breakfast has something for everyone, whether you're a food-lover, a spiritual seeker, a life-long learner who feasts on facts, or you're simply trying to figure out what to make for breakfast as you stumble out of bed. I highly recommend this book.
You can purchase Vegetables for breakfast here.
You can also try out some of the recipes from Vegetables for breakfast, which are now on our website:
*
Kohenet Yael Tischler is a ritual-weaver, Jewish educator and song leader.  She is the co-founder of Yelala, a constellation of work that celebrates Earth-centred, feminist Jewish spirituality and reclaims the practices of our women/femme and folk ancestors.  She holds an MA in Writing for Young People from Bath Spa University, a BA in English Literature from Columbia University and a BA in Tanakh (Bible) from the Jewish Theological Seminary.