Written by Tallie Samuels for the Jewish Chronicle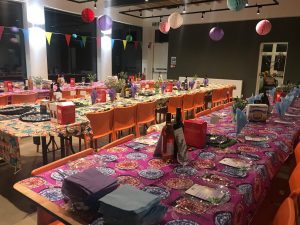 Eighty vegan and vegan-curious diners joined together at JVS' first communal seder last week. And the event went off with a (meat-free) bang!
By most estimations, a vegan dinner (no milk! No eggs! No meat!) over Pesach (no bread! No pasta! No soy!) would be a very niche event indeed. However, the sell-out event I hosted with JVS for second seder night last week (and the waiting list) would suggest that's not the case.
The vast diversity of this lovely event was clear days before it even begun. On one of the busy prep days in the week leading up to Pesach, I found myself chatting to the Shomer, Rabbi Eliyahu Leib Goldsobel, elbow-deep in what had to be five kilos of cauliflower.
Eli and I were surrounded by volunteers, some of whom have restaurant experience and some who need gentle guidance when peeling a carrot. None of this mattered – everyone joined together to help chop, sprinkle and stir this feast into existence.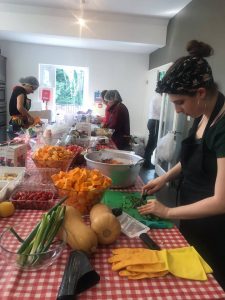 The menu, created by myself and fellow chef Zoe Marks, turns out as wide-reaching as the kitchen behind it: guacamole from Mexico; lasagne from Italy; curry from Sri Lanka; beetroot dip from Russia; apple crumble, travelling not quite as far as its counterparts, from Great Britain.
On the night of the seder, story-teller and perfromer Rachel Rose Reid wove the story, guests nibbled on roasted cauliflower, smoky sweet potato wedges, Asian-inspired slaw and a vast array of dips from cashew sour cream to mango and mint salsa. Children ran gleefully around the back room clutching cucumber sticks, and even the older members of our community, some not so used to plant-based food, clear their plates with the same enthusiasm.
Even more volunteers joined a long production line in the kitchen, to help dish out the mains. Eli, Zoe and I, joined by JVS staff and teh seder's organisers Dan Jacobs and Gabriela Pomeroy, served up aubergine lasagne, quinoa, Sri-Lankan curry, and kale walnut pesto onto eighty waiting plates.
After a trio of dessers (prepared by me! -: apple and rhubarb matzo crumble; a mint, lemon and lime sorbet; and salted caramel choc pots –  the children run around in a frenzy searching for the Afikoman. The the adults also had the opportunity for some matzo-shaped fun: a salted caramel brittle to complete their choc pots.
The vegan Seder was been bought to life not only by the food we poured our hearts into, but by the overwhelming feeling of unity and celebration abuzz on the long tables of diners. For what looked like a niche event, this evening really captured the beautiful diversity of our people.
Read more from Tallie Samuels at https://talliesamuels.com/ including her recipe from the matzo crumble served at this event.
See more photos here, taken before the Seder took place.