We are beyond excited to announce the first vegan Birthright trip from Europe is happening this summer!
Birthright Israel UK is running the 'Birthright Goes Vegan' trip from 29th July to 8th August, for ages 19 – 26.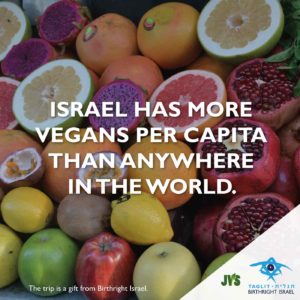 The best of birthright, plus some extra special treats. Did you know that Israel has more vegans per capita than anywhere in the world? The land of milk and honey is now firmly on the map as a vegan paradise. This is your chance to explore Israel through a new lens, get a taste of the thriving vegan scene, and the vegan movement that is inspiring activists worldwide, all with like minded friends. Not vegan…? No problem! This trip is in collaboration with the JVS.
Click here to apply directly, scroll down to find the vegan trip:
Please share this with UK-based contacts who might be interested.