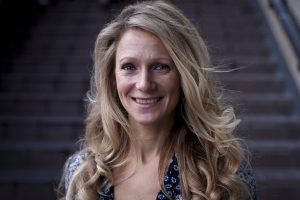 Vanessa Hudson is Leader of Animals Count – The Animal Welfare Party. Having been vegetarian for over 30 years and vegan for the last 16, Vanessa is passionate about achieving greater rights for animals by setting positive examples of animal friendly lifestyles. Vanessa's aims for the future direction of Animals Count are to increase awareness of the Party, grow the membership and strengthen the Party's position to contest the EU elections next summer.
At roughly what age did you become vegetarian?
I became vegetarian at the age of seven.
What made you become vegetarian?
I'd always hated eating meat, chicken and fish. Although my parents struggled to get my sister and I to eat meat and fish, they did try for a while, believing it was necessary for good health. There was a chicken abattoir in our village and my 8 year old sister and I spent hours in the orchard next door observing how the chickens were killed. One day we just decided we'd had enough, went home and announced we were giving it all up. Thankfully, my mum didn't try to change our minds. She just said "OK, I'll give up too". All three of us became vegetarian that day.
What is your favourite vegetarian meal?
I'm a Northerner at heart so the truth is a really well done takeaway of chips and mushy peas – preferably eaten on a bench with a view. But I appreciate if you're not brought up eating them you might struggle to see the appeal of mushy peas. I think you have to be initiated at an early age! Something more healthy and perhaps more enticing to others would be a South Indian Masala Dosa or a Thai Style Tofu Green Curry. For a long time I've been chasing the dragon of the first ever Green Papaya Salad I had in Vietnam. At the time, it blew my mind and I was hooked. Nothing since has ever come close – though I live in hope…
Which is the best vegetarian restaurant you have been to?
If I could say the whole of South India and Sri Lanka would that be cheating? The vegetarian food there is amazing and there are so many small cafes and restaurants producing food that is phenomenal it would be hard to choose just one.
Back in the UK, my favourite restaurant was Saf in Shoreditch, London. I got into raw foods a few years back and was always so amazed at how they made such healthy food taste so delicious. They turned food preparation into an art form. Sadly, Saf closed the Shoreditch branch last year and although a concession remains in Wholefoods, Kensington, it's not quite the same.
With Saf out of the picture, my favourite high end restaurants would be Vanilla Black and Manna in London and Terre à Terre in Brighton. I also love the raw food desserts made at Inspiral in Camden, London and Alokha in Brighton. A special shout out for the vegan fish and chips at the Coach and Horses pub in Soho London would be in order too.
Where is the most vegetarian-friendly place?
Any of the above.
What has been your worst experience as a vegetarian?
Growing up as vegetarians in the midlands in the 80's, we had quite a few meals out that were not terrible but a bit boring and lacking in imagination. I have a fear to this day of things like 'stuffed peppers'. But things have changed so much and restaurants generally so much better educated in vegetarianism that, if we leave out traveling in Argentina a few years back, it's a long time since I had a truly bad experience. There are some very reputable places that I'm often surprised can't try harder though – like St John Bread and Wine in Spitalfields, London. I went there recently for a birthday dinner and, although my dining companions loved their dishes, I was astounded that they couldn't make anything vegan for me. I ate bread, salad and olives, which is not awful but to my mind reflects poorly on their culinary imagination.
Can you recommend any good vegetarian resources (cookbooks/guides/websites/etc.)?
Whenever I travel to a new city for work or pleasure I check out the Happy Cow website to find out what my veggie dining options will be nearby. I've discovered so many great places that way.
I also use the Saf recipe app for inspiration with raw food dishes.
What's your "signature dish" (and can you give us the recipe)?
The dish that seems to go down the best with others is Red Lentil Daal. It's pretty easy to make. I generally make a large batch and freeze any that doesn't get eaten. (Tip – You can make it the day before and it's even tastier the next day. If you don't like spicy food, leave the ginger and chilli out).
Red Lentil Daal
Serves 6
Can be eaten on its own or with rice.
Ingredients:
1 tablespoon of vegetable oil
1 onion – chopped
3 cloves of garlic – chopped
a finger sized piece of ginger root – finely chopped
4 tomatoes, chopped, or a can of chopped tomatoes
1 500 g bag of red lentils
1 couple of carrots sliced (optional)
2/3 teaspoons of vegetable stock powder such as Marigold Vegan Bouillon Powder
1 teaspoon of cumin seeds
1/2 teaspoon of cardamom seeds – freshly extracted from the pod
1/2 – 1 teaspoon of crushed chilli seeds – according to taste
1 to 2 teaspoons of turmeric powder (optional)
1/2 block of creamed coconut chopped into small pieces (if you can't find this, stir in 1/2 to 1 can of coconut milk at the very end, but the block produces a richer and much better taste)
a kettle full of boiling water
a handful of freshly chopped coriander to garnish (optional)
Directions:
Heat the oil.
Fry the cumin and cardamom seeds for 30 secs.
Add the onion, garlic and ginger and fry for another minute and a half.
Add the red lentils and fry in the spice mixture for a minute.
Add a kettle full of boiling water, stir the mixture and turn down the heat to a simmer.
Add the tomatoes, carrots (if using), turmeric powder, chilli seeds, stock powder and stir.
Leave the pan to simmer for the next 30 mins, checking and stirring every 5 mins or so.
Add more water, if needed.
Eventually the lentils should start to break down and form a 'mush'. The contents of the pan should now be thick and stew like. At this point the daal is ready.
Keep tasting and add more stock/salt/chilli to taste.
Add the creamed coconut and stir in until melted and absorbed. If you haven't been able to find creamed coconut add 1/2 to 1 can of coconut milk according to taste.
Once the taste of the daal is to your liking, serve alone or with rice, garnished with the chopped coriander.