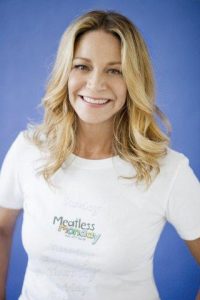 Miki Haimovich is a television presenter. After starting out as a researcher for the Israeli Channel 1 programmes Mabat Sheni and Boker Tov Israel she began editing the news for the Matav cable channel, later becoming chief editor. In 1993 she became one of the first news anchors on the new commercial Channel 2, until moving to Channel 10 in 2002 where she stayed for nine years. Miki now heads up the Meatless Monday campaign in Israel.
At roughly what age did you become vegetarian?
I became vegetarian 22 years ago and a few months ago I went the extra "step" and became vegan.
What made you become vegetarian?
I always loved animals – for me there is no difference between the pets we have in our houses and farm animals. They all have feelings and suffer pain and horror. We don't have the right to treat animals with such cruelty.  I'm sorry it took me so long to be strong minded and stop eating them.
What is your favourite vegetarian meal?
Since I live in the Middle East, I find that  a good vegetable salad, hummus, falafel and pita bread is the ultimate vegan meal, but I also adore Thai and Indian food – there are so many vegan dishes that I like in those cuisines.
Which is the best vegetarian restaurant you have been to?
For many years Food for Thought in London was my favorite – I even translated the restaurant's cookbook into Hebrew. It was published in Israel three years ago with great success. Tel Aviv has become a great place for vegans lately. I strongly recommend Orna & Ella, Caffe Meze and Buddha Burgers.
Where is the most vegetarian-friendly place?
London – I guess the area around Neal Street.  In the U.S.A, California… and as I already mentioned – Tel Aviv.
What has been your worst experience as a vegetarian?
Last summer I traveled to Paris with my husband and we booked a table at a very famous three-star Michelin restaurant. The minute I told the waiter I was vegetarian he gave me a terrible look. The only dish they offered was a kind of scrambled egg for which I paid 90 euros!
Can you recommend any good vegetarian resources (cookbooks/guides/websites/etc.)?
These days I find that the web is a great resource for recipes. There are many vegan blogs in Israel and they're very useful. The Meatless Monday websites are also great, as well as the British Meat Free Monday campaign's cookbook. We hope to publish a Hebrew version of this next year. In Israel there's also a new app for cell/mobile phones. It's called Go Vegan and it finds you the nearest place to eat vegan in your area – brilliant!
What's your "signature dish" (and can you give us the recipe)?
I make a quinoa salad which is very popular in my family. It's simple and fresh in the summer.
1 cup of quinoa, cooked in water and chilled
1 mango, diced
1 kohlrabi, diced
1/2 cup sweet pecan nuts, crushed
coriander
Mix all the ingredients in a bowl and add some balsamic vinegar and olive oil.