More Info » This Funzing Experience: In this friendly, interactive session, Nishma, Chef and Founder of Shambhu's, a vegan food company, will teach you how to make delicious, nutritious, low-oil and dairy-free versions of Gujarati meals. Most of the items taught will be naturally gluten-free too.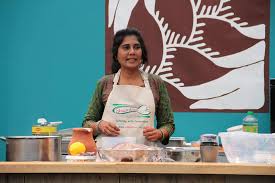 Nishma is of Gujarati Indian heritage, has been immersed in Indian culture all her life and is proud of it, and importantly loves making and teaching flavoursome and healthy plant-based food. Click here to book and for venue details. **Shambhu's are very kindly donating 10% of each ticket sale made via this link to JVS. After booking, please email [email protected] to let Nishma know you heard about the event from JVS.**

This class is run as a friendly interactive demonstration by Nishma, among a small group of fellow participants. You will therefore have a prime opportunity watch closely, take notes and feel free to ask Nishma questions as the class proceeds, so that by the end of the class you should be able to make the dishes yourself at home. Printed recipes for the items taught will be provided.

Although there might be optional hands-on opportunities to help with food prep tasks during the class, the idea is for you to maximise your learning by watching Nishma demonstrate the dishes, pick up valuable tips and ask questions along the way.

This class is ideal for anyone who wants to increase their intake of healthy plant fibre and learn about plant-based alternatives used to create traditional meals.
Learn about pairing vegetables, fruits and nuts with various spices to create authentic healthy Gujarati dishes without compromising on flavour.
Learn about ways to bring out the distinctive flavours.
Learn about the nutritional value of the ingredients.
Opportunity to enjoy the dishes made at the class, and take away any excess.
Complimentary tea/coffee during the session.
Printed recipes for the dishes taught.
All necessary materials provided.
Meet fellow like-minded participants.
Although all the dishes will be vegan-friendly (and most of them naturally gluten-free), the class will be valuable and enjoyable for anyone interested in Indian cookery. Please inform the host in advance if you have any food allergies.
April 22nd, 2018 2:30 PM through 5:00 PM