*Please note that this is an online event, which will take place via Zoom.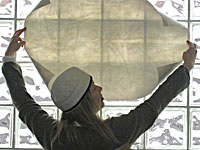 Jewish sacred documents are typically made using the skin of animals. What options might there be for vegans hoping to observe the mitzvot (commandments) of tefillin and mezuzot? Is there such a thing as a vegan Torah scroll? What about Ketubot (marriage documents) or Gittin (divorice documents)? Inspired by this article, Kohenet Yael Tischler will interview Soferet Avielah Barclay about all available options. There will be an opportunity for guests to ask Avielah their questions, too.
Cost: Free, but registration is essential.
Location: JVS Zoom Room.
How to register: Please email [email protected] to book your place; you'll then be sent the Zoom link and password. Please register no later than 10am BST on 9 June.
When
June 9th, 2020 12:00 PM through 12:30 PM