*Please note that this is not a JVS event. The event will take place on Zoom.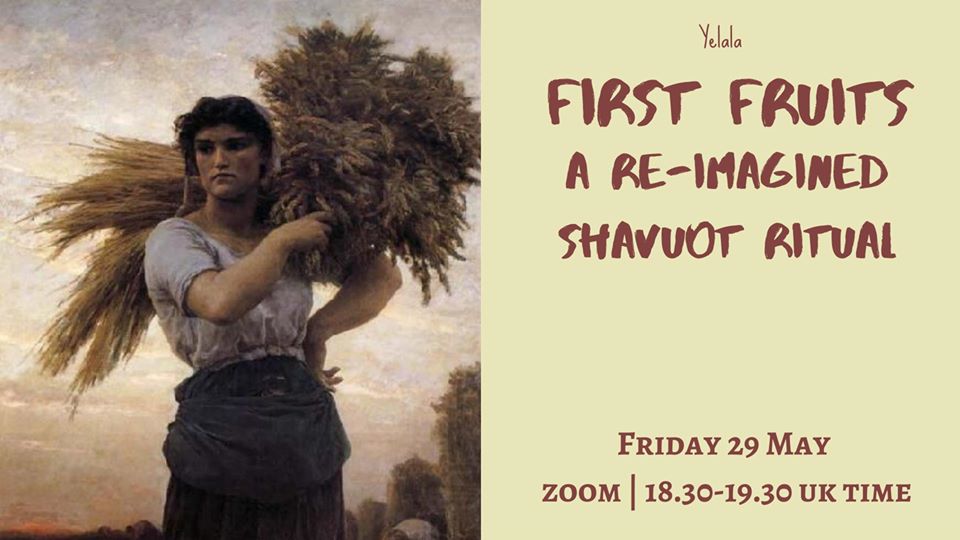 "A person goes to one's field and sees a date that is bearing fruit, a bunch [of grapes] that is bearing fruit, or a pomegranate that is bearing fruit, and ties it with a string and says, "Behold these are Bikkurim." - Mishnah, Bikkurim 3

Bikkurim were the first fruit offerings that were waved in the air as a sign of gratitude and devotion at the ancient temple of Jerusalem.
Yelala and Sadeh are collaborating to re-imagine what a first fruit offering might look like in our modern times.

This event takes place on Zoom. Please email hello(at)yelala(dot)co(dot)uk and also please tell us what fruit you are thinking of bringing so that we know you are real human!

Have you learned a new craft or skill? Have you made a transition? What has changed since last Autumn for you?
Whatever they are, bring your first fruits to wave, share and celebrate in our Zoom gathering at the eve of Shabbat.
For more information, please click here.
When
May 29th, 2020 6:30 PM through 7:45 PM