Join us for our next live cookalong with Sabrina Bonaparte. She will be teaching us how to make her whole foods plant-based potato bar and black bean brownie for Shabbat.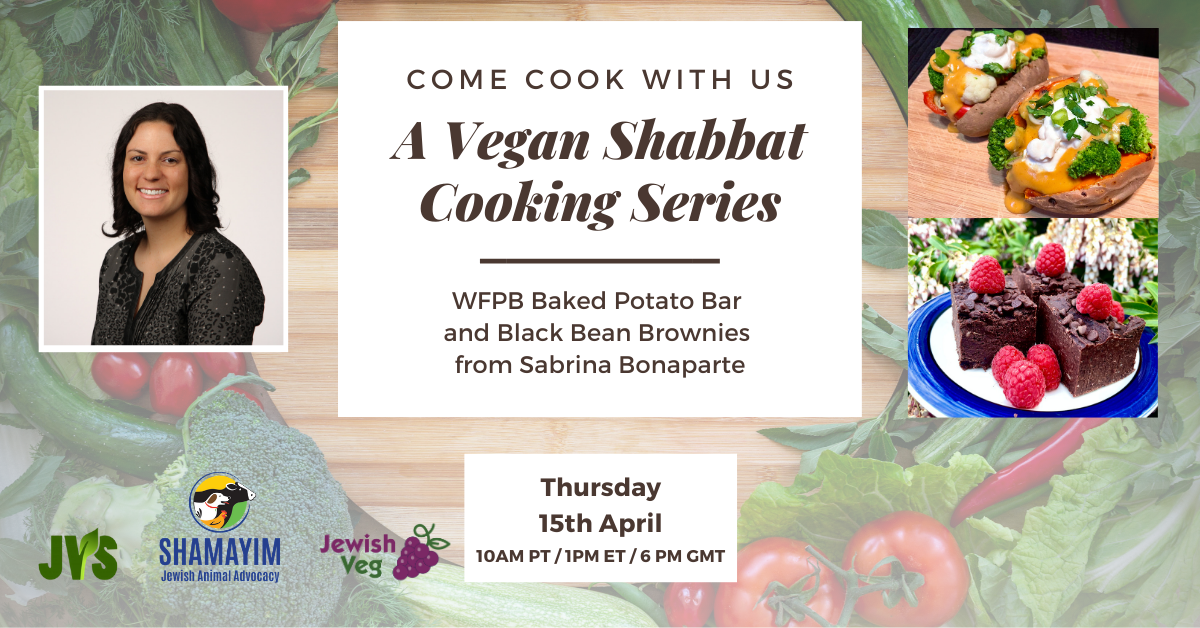 Connect with Jewish ethical eaters in England and the US as we partner to bring our communities together. The ingredients will be sent to you after you register so that you can purchase and cook along! This event is on Thursday, April 15 at 10AM Pacific / 1PM Eastern / 6PM UK time.
Click here to book your free ticket.
After booking we will send you the list of ingredients needed for the class.
Sabrina lives in Seattle with her husband, her two tuxedo cats and her fabulous rescue Yorkie named Fabio. She is a graduate of the Rouxbe Essential Vegan Desserts course and a mentor in the Challenge 22 program for new vegans. Sabrina is on the board of directors at Rooster Haus Rescue in Fall City, Washington. Rooster Haus is home to 3 beautiful Kaporos survivors, and many other inspiring animal residents. In her spare time, Sabrina loves to volunteer at animal sanctuaries, and you will often find her feeding berries to turkeys. Sabrina is vegan for the animals, but went whole food plant based last May, and has enjoyed pivoting her cooking and baking to fit a healthy vegan lifestyle.
When
April 15th, 2021 6:00 PM through 7:00 PM