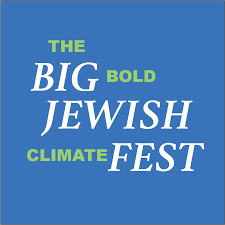 Registration is now open for this free and online festival.
As a core partner in bringing this festival to life, Hazon is highlighting climate change as a central moral issue of the Jewish community.
Come learn with us as we talk with young climate activists about the future they're trying to create, laugh with us at a comedy event by and for anxious Jews, and learn more about how you can be a part of the solution in easy, uplifting, and doable ways.
With over 140 programming events scheduled this is an opportunity you don't want to miss! Here are a few highlights we recommend:
Spirit, Symbols, Snacks and Song: A Communal Tu B'Shvat Seder, January 26, 7:30-8:30pm EST
Why Climate Change Must Be a Central Moral Issue of The Jewish Community, January 27, 12-1pm EST, Main Stage
Jewish Institutions: Why and How We Can Make a Difference, January 28, 11am-1pm EST
Not In My Backyard: How Detroit Has Fought Back, January 28, 4-5pm EST
Creating a Just and Climate-Smart Food System: Simple Skills for Federal Food and Farm Advocacy, January 29, 10-11:30am EST
Future of the Climate: A Conversation with Youth Who Founded a Movement, January 31, 7-8:30pm EST, Main Stage
The festival is a collaboration by and for people who want to activate Jewish values and help our community move the needle on climate change. It's open to all, no experience or prior knowledge required.
If you're feeling a Jewish imperative to take action on climate in 2021, come be a part of this event!
When
January 27th, 2021 3:30 PM through February 1st, 2021 6:00 PM