Our panel will discuss how farming can create carbon sinks and revive nature as well as answering growing, farming and environmental questions sent in by the audience.   Send your questions to: 
[email protected]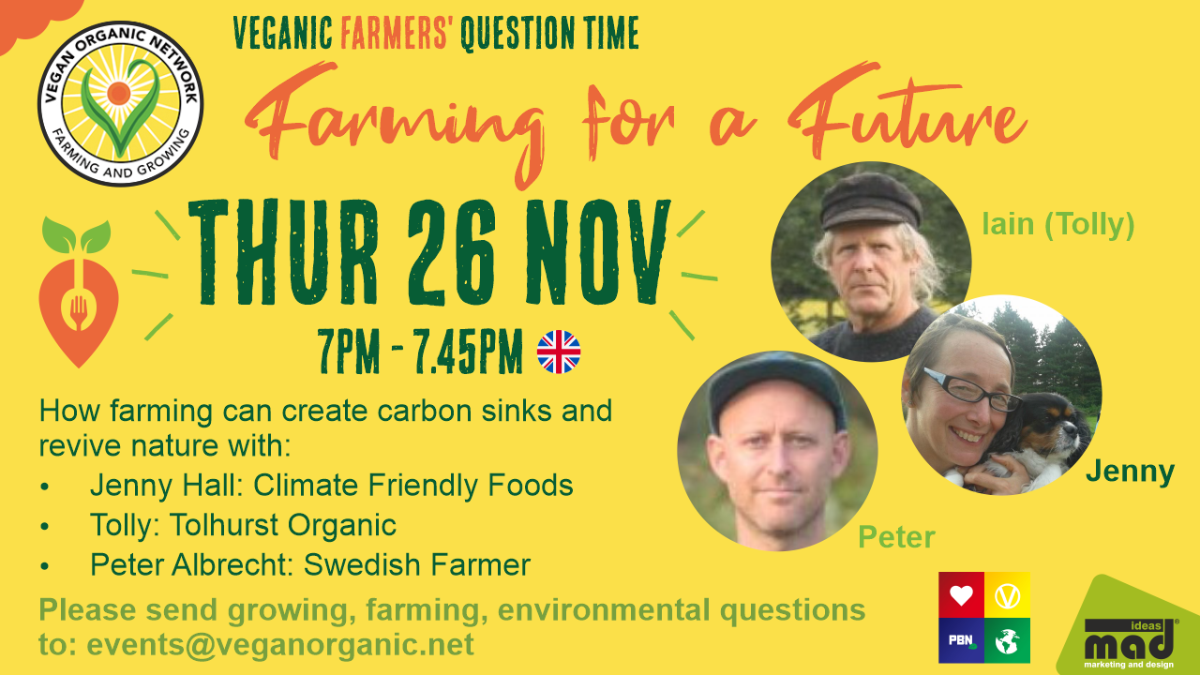 Streaming live on Facebook and Youtube
Links to be announced one week before the event.

Tune in to our next show for a lively topical debate with:

Jenny Hall from Climate Friendly Foods
Tolly who runs Tolhurst Organic
Peter Albrecht: Swedish farmer and forest gardener

Iain Tolhurst (Tolly) has been at the forefront of the UK organic farming movement for over 40 years. His 8-hectare farm has won many awards the most recent being "soil farmer of the year". His most recent book "Back to the Land" is a chronological compilation of many of the articles and papers that he has written during his long career, and gives a fascinating account of the way his farm and business has developed with much emphasis on soil management. His earlier work co-written with Jenny Hall has become a text book for many especially the newly emerging young people keen to get into Stockfree organic food production.
More information: https://www.tolhurstorganic.co.uk/
Tolly's Books

Peter Albrecht: Operates a micro farm growing veggies for seed for a seed firm called Nordfrö in Sweden. He also grows for his family and puts on events, for example: vegan farming classes, vegan permaculture and private events. They grow a large variety of vegetables and beans. They also do lectures to promote vegan agriculture. They have a large forest garden with perennial vegetables, fruit and berries, and teach forest garden design and host pupils studying agriculture, small scale farming and permaculture. They mainly use no-dig methods. Find Peter on Instagram @vegantradgard and Facebook

Jenny Hall: Co-author of Growing Green and many other books. She set up Fir Tree Community Growers which is the small holding she runs as Climate Friendly Food CIC. She has twenty years of experience providing therapeutic horticultural experience. Her current part time job is about getting new audiences out into green spaces. More info here. Growing Green Organic Techniques for a Sustainable Future https://veganorganic.net/product/growing-green
Jenny's Books

Veganic Farmers' Question Time hopes to inspire and bring new ideas to foragers, growers and gardeners alike.
Now more than ever it is vital that we engage with how our food is grown.
Tune into our show and become part of the growing revolution which can not only transform your garden plot but also change the way the world grows its food.
When
November 26th, 2020 7:00 PM through 7:45 PM