*Please note that this event is an online event and will take place on Zoom.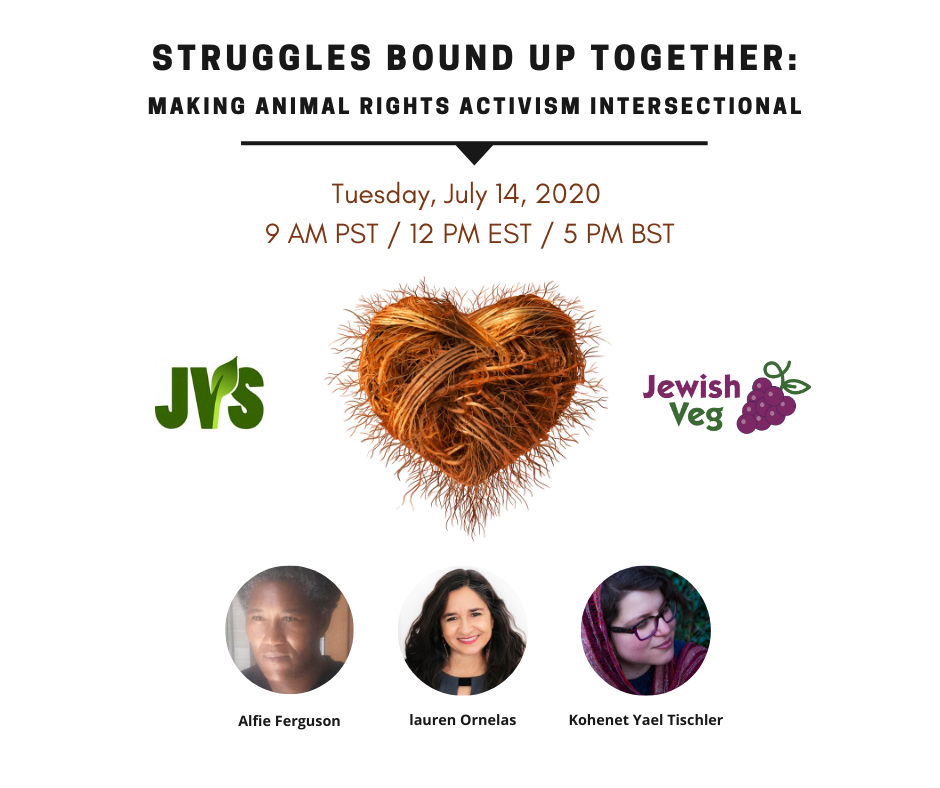 אִם אֵין אֲנִי לִי, מִי לִי. וּכְשֶׁאֲנִי לְעַצְמִי, מָה אֲנִי. וְאִם לֹא עַכְשָׁיו, אֵימָתָי:
If I am not for myself, who will be for me? But if I am only for myself, what am I? And if not now, when?
-Pirkei Avot 1:14
The struggle for animal liberation is inextricably bound up with all struggles for liberation. Join the Jewish Vegetarian Society, Jewish Veg, and guest speakers Alfie Ferguson, Lauren Ornelas and Kohenet Yael Tischler for a conversation about how our animal rights activism can be intersectional. How do we do this work as Jews, as People of Colour, as Jewish People of Colour, as allies in each of these struggles? How can veganism, vegetarianism and animal rights activism not only be inclusive, but also actively anti-racist?
Time: 9am PDT/12pm EDT/5pm BST - 10am PDT/1pm EDT/6pm BST. Please make sure to confirm what the start time is in your home time zone.
Cost: Free, but registration is essential
How to register: https://us02web.zoom.us/webinar/register/WN_PbMhBmHpRtishgdZQz8Jcg
When
July 14th, 2020 5:00 PM through 6:00 PM