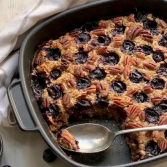 Vegan baked oatmeal with blueberries and pecans
Had enough of porridge? This tasty bake will fit the bill. Recipe and image by Lisa Roukin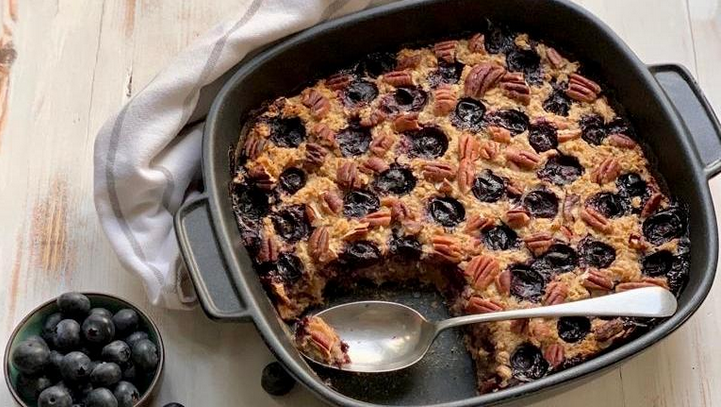 Ingredients
300 g whole rolled oats (gluten-free if required)
6 tbsp agave, maple, or rice malt syrup
2 "flax eggs" plus 6 tbsp plant-based milk to hydrate
360 ml nut, seed or rice milk
2 Pink Lady apples, grated (skin on)
1 tsp baking powder
2 tsp vanilla bean paste or the seeds from 2 vanilla pods
1 – 1 ½ tsp ground cinnamon
2 – 4 pinches sea salt or pink Himalayan salt
160 g fresh or frozen blueberries (60 g for inside the mix, 100 g to sprinkle on top)
50g pecans halves, broken in half
Instructions
1
Preheat the oven to 200°C (180°C fan-assisted). Line a 23cm x 23cm square baking tray with parchment paper.
2
In a small mixing bowl add 2 tbsp milled flaxseed together with 6 tbsp milk stir and let sit for 15 minutes.
3
Combine the oats, grated apple, syrup, plant milk, vanilla bean paste/seeds, baking powder, cinnamon and sea salt in a large mixing bowl and mix well.
4
Fold in the "flax egg" along with 60 g of blueberries until thoroughly combined.
5
Pour the mixture into the prepared tin, top with the remaining 100 g of blueberries and then scatter over the pecan pieces.
6
Using the back of a spoon, gently press the blueberries and pecans into the mixture until they are firmly fixed but not too sunken.
7
Bake for 35 minutes then remove and, using the tip of a sharp knife, gently pierce the blueberries (if they haven't already burst) and press lightly with the blade of the knife to release the juices — take care, you don't want the hot blueberry juice on your skin – or on your walls!).
8
Return to the oven for a further 5 minutes until golden brown and mottled with purple where the blueberry juice has soaked in.
9
Serve straight immediately with vegan yogurt, extra berries and banana, nut or seed butter and, if you want some extra sweetness, drizzle with a little more syrup.
Lara Balsam