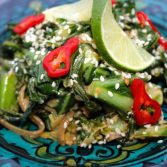 Tahini & Lime Greens with Cinnamon Sweet Potato Mash
Tahini and fresh lime juice take basic greens to a new level, creating a stunning dish, with minimal effort. Enjoy with a bowl of cinnamon speckled sweet potato mash.
By Lara Smallman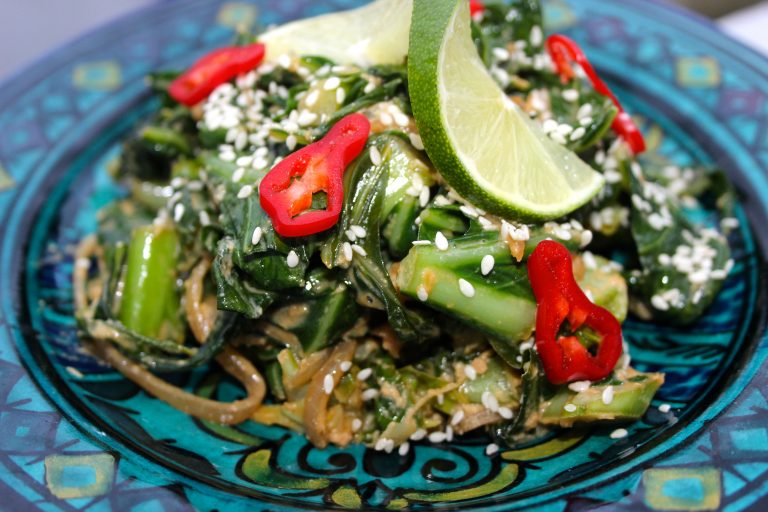 Ingredients
For the greens:
3 tbsp sesame oil
1 medium white onion, sliced in half moons
5 garlic cloves, peeled and crushed
1.5 inch of fresh ginger, peeled and sliced in to thin strips
500 g fresh greens, sliced 2 – 3 cm wide on the diagonal
3 heaped tablespoon of good quality tahini
5 level tablespoons of tamari (use soy sauce if you don't need it to be gluten free)
Juice of 1 lime
Fresh red chilli and sesame seeds for garnish
For the mash:
3 large sweet potatoes, steamed until soft
½ tsp cinnamon
Pinch of sea salt
Freshly ground black pepper
Drizzle of olive oil
Instructions
1
Start by preparing all of your ingredients. Heat a large wok on a medium heat and add the sesame oil. After 20 seconds add the onion, ginger and garlic and stir to combine. Cook until the onion is translucent. Add the fresh greens and stir well. Cook for a further five minutes on a medium to high heat, stirring occasionally. They will shrink during cooking so don't worry about the wok being overly full. Add a couple of tablespoons of tahini and mix well, followed by a couple of tablespoons of tamari / soy sauce. Taste and add more for a richer flavour.
2
Just before serving, squeeze in the juice of a fresh lime. Roll it along the worktop using the palm of your hand to release more juice. To serve, top with sliced red chilli and sesame seeds. To make the sweet potato accompaniment: Use a fork or potato masher to mash the potatoes until smooth (or leave a bit chunky if you prefer, sprinkle in some cinnamon (a little at a time) and crushed sea salt and black pepper, mix well and taste. To serve: drizzle with olive oil and add a final pinch of cinnamon.
jvs