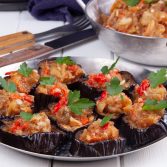 Harissa aubergine salad (ajlouk) – for Pesach
This recipe is from the
Jewish Chronicle
.
Spice it up with this vegan-friendly Tunisian aubergine favourite.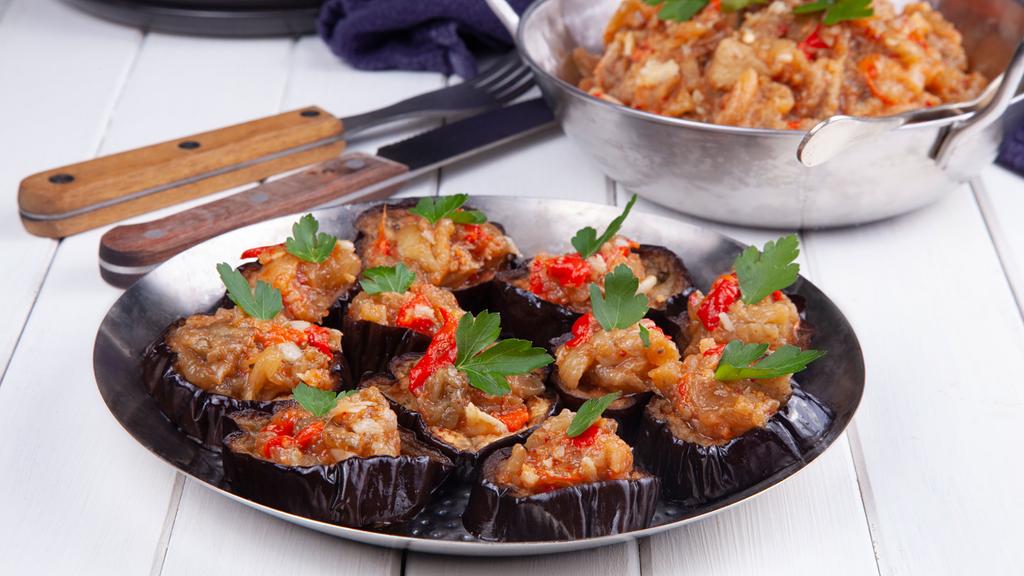 Ingredients
3 aubergines, one large and two medium size
One large garlic head
1 red pepper
Juice of a lemon
1 tbsp harissa (more to taste)
Salt, pepper
3 tbsp olive oil plus more to coat the aubergines
10g parsley leaves (leaves only, for garnish)
Instructions
1
Slice the two medium size aubergines into 1.5cm thick pieces and brush them with olive oil on both sides.
2
Lay them on a baking dish lined with baking paper and roast them in the oven for about 25 – 30 minutes at 180 degrees centigrade (fan) until they are golden brown.
3
Peel the large aubergine at cut it into large cubes — about 3cm.
4
In a large cooking pot add the diced aubergine, the whole pepper and the unpeeled garlic head and cover with boiling water.
5
Add salt and boil for 15-20 minutes.
6
Drain well, then peel the skin from the pepper and squash the garlic to extract the puree. Discard all the skins.
7
Roughly mash the aubergine, garlic and pepper with a fork.
8
Add the lemon juice, the harissa or more to your taste, salt, pepper and the 3 tablespoons of olive oil and mix well.
9
Serve the sliced aubergines on a platter, each topped a teaspoon of the aubergine/pepper/garlic puree. Top each one with a parsley leaf.
Yael Tischler