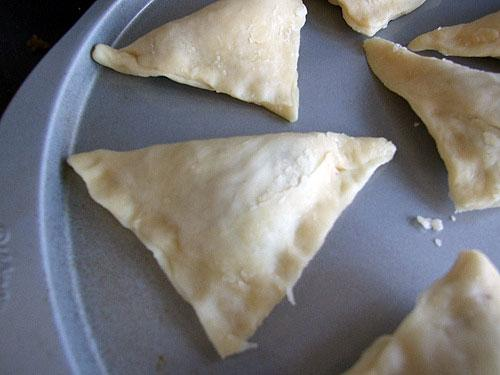 Recipe from earthbalancenatural.com
Vegan Kreplach for Purim
Author:
Vegan Kreplach is sometimes described as Jewish style perogies or won-tons. They are a traditional specialty served during the holiday of Purim. Of course, we won't tell if you decided they are so yummy that you want to enjoy them all year long!
Ingredients
1 cup unbleached flour
1/4 cup water
3 medium potatoes
1 medium onion, peeled and chopped
2 tsp olive oil
1 clove garlic, peeled and minced
1 tsp Earth Balance® Buttery Spread
1/4 – 1/2 cup soy milk
1 tsp parsley flakes
1/4 tsp dill weed
1/2 tsp salt
1/2 tsp pepper
Instructions
Peel the potatoes and boil until tender. Cut into chunks.
Saute`onions in 1 tsp oil until translucent.
Mash potatoes with garlic, Earth Balance® Buttery Spread, soy milk, parsley, dill, salt, and pepper. Mix in onions. Set aside.
Prepare dough by combining flour, 1 tsp olive oil, and water. Add a little more water if necessary. Knead until smooth.
Take a 1″ piece of dough, and roll it into a thin circle, about 3″ diameter. Put about a Tbs of the potato mixture on the dough circle. Fold one side over so it forms a semi-circle, dampen edge slightly, and seal shut.
As you make them, put the filled kreplach on a lightly-greased cookie sheet. After all the kreplach have been made, they can be cooked immediately, refrigerated for a few days, or frozen until needed.
To cook: Carefully drop kreplach into boiling water. Cook on medium simmer for a few minutes. They cook quickly.
Heat a tsp of olive oil in a frying pan. Add pierogies, and brown on both sides.
Serve plain, or with soy sour cream, tomato sauce, or as desired.