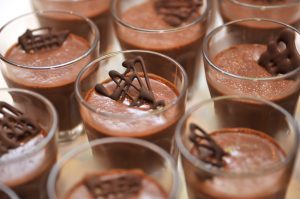 Total time:
1 hour 15 mins
The beauty of this recipe is that it's quick and easy to make and non-vegans are often surprised to learn that it's made from tofu – it's so rich and creamy – you'd never guess! How often do you come across a chocolate dessert that's full of protein?
Ingredients
1 x 350 g box of silken tofu
200 g dark chocolate
Instructions
In a blender, or using a hand blender, puree the tofu until smooth.
Pour some water into a large saucepan and bring to the boil. Meanwhile place 3/4 (150 g) of the chocolate into a smaller saucepan and place this on top of the large saucepan, thereby allowing the chocolate to melt.
Add the melted chocolate to the pureed tofu and blend thoroughly.
Pour into 4 or 5 individual small dessert bowls and chill in the fridge for one hour or more.
Grate the remainder of the chocolate and sprinkle over the mousses before serving.