Tu B'Shevat – Tabbouleh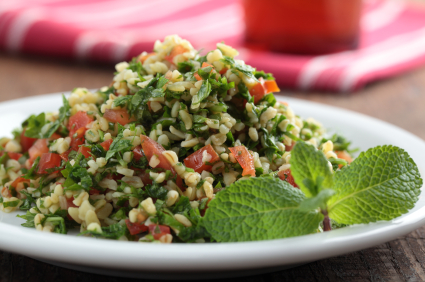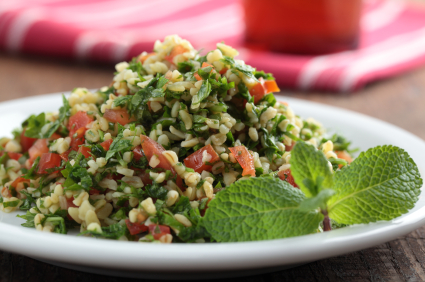 Tu B'Shevat – Tabbouleh
Prep time:
Cook time:
Total time:
Tu B'Shevat, the 15th day of the Jewish month of Shevat, is a holiday also known as the New Year for Trees. Traditionally Jews eat fruit from Israel, especially the seven species (shivat haminim) – wheat, barley, grapes, figs, pomegranates, olives and dates – and other fruit mentioned in the Torah. Tabbouleh is appropriate for a Tu B'Shevat meal or seder becuase it combines some of the seven species and is good served with other salads, mezze and fruit. Quinoa can be used in place of bulgar wheat, if preferred.
Ingredients
175g bulgar wheat
325ml boiling water
1 teaspoon salt
4 tablespoons freshly squeezed lemon juice
4 tablespoons olive oil
1 bunch of flat leaf parsley, chopped
3 tablespoons fresh mint, chopped
freshly ground black pepper
4 large tomatoes, diced
4 spring onions, finely chopped
a quarter of a cucumber, finely diced
Instructions
Put the bulgar wheat in bowl and pour on boiling water.
Sprinkle with salt and stir.
Cover and leave to stand for 20 minutes or until it has absorbed all water and is soft.
Drizzle the oil and lemon juice over the bulgar wheat.
Add the herbs and lots of freshly ground black pepper.
Mix in the tomatoes, onions and cucumber.
Toss well. If preparing in advance, cover the salad and let it marinate for a few hours in the fridge.
Serve with pita bread, mezze (such as Hummus and Baba Ganoush), figs and olives, and wine or grape juice.
Related Posts