Tu B'Shevat – Tabbouleh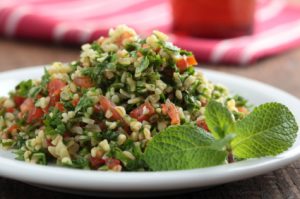 Tu B'Shevat – Tabbouleh
Tu B'Shevat, the 15th day of the Jewish month of Shevat, is a holiday also known as the New Year for Trees. Traditionally Jews eat fruit from Israel, especially the seven species (shivat haminim) – wheat, barley, grapes, figs, pomegranates, olives and dates – and other fruit mentioned in the Torah. Tabbouleh is appropriate for a Tu B'Shevat meal or seder becuase it combines some of the seven species and is good served with other salads, mezze and fruit. Quinoa can be used in place of bulgar wheat, if preferred.
Ingredients
175g bulgar wheat
325ml boiling water
1 teaspoon salt
4 tablespoons freshly squeezed lemon juice
4 tablespoons olive oil
1 bunch of flat leaf parsley, chopped
3 tablespoons fresh mint, chopped
freshly ground black pepper
4 large tomatoes, diced
4 spring onions, finely chopped
a quarter of a cucumber, finely diced
Instructions
Put the bulgar wheat in bowl and pour on boiling water.
Sprinkle with salt and stir.
Cover and leave to stand for 20 minutes or until it has absorbed all water and is soft.
Drizzle the oil and lemon juice over the bulgar wheat.
Add the herbs and lots of freshly ground black pepper.
Mix in the tomatoes, onions and cucumber.
Toss well. If preparing in advance, cover the salad and let it marinate for a few hours in the fridge.
Serve with pita bread, mezze (such as Hummus and Baba Ganoush), figs and olives, and wine or grape juice.
Got anything to say? Go ahead and leave a comment!
Further Information
Paul McCartney once said " If slaughterhouses had glass walls, everyone would be a vegetarian". Watch Glass Walls to find out why everyone would be vegetarian if slaughterhouses had glass walls.
Actor Alec Baldwin exposes the truth behind the factory farm.
Animal Aid secretly filmed at randomly-selected UK farms farms between 2007 and 2010.
Further Information
The Guardian, Saturday 1 March, 2008.
by Mark Hawthorne
Further Information
JVNA
The Jewish Vegetarians of North America have a wealth of useful information on their website.
Micah Publications, Inc
Read interesting essays and stories at Micah Publications, Inc
Further Information
NHS
For advice about healthy vegetarian diets, visit the
NHS Live Well website.
Planeat
Planeat traces three men's life-long search for a diet which is good for our health, good for the environment and good for the future of the planet. It's available to watch at the Planeat website for £4.10. (All money raised from sales is put towards the marketing of the film and its message: "to help people eat in a more healthy and environmentally sustainable way".)
Forks Over Knives
Forks Over Knives (available as a film and book) examines the claim that most, if not all, of the degenerative diseases that afflict us can be controlled, or even reversed, by rejecting animal-based and processed foods. The film traces the personal journeys of pioneering researchers, Dr. T. Colin Campbell and Dr. Caldwell Esselstyn. Both the book and DVD are available fromAmazon.
Upcoming Events
Oct
19
Sun
6:30 pm
'Pomodoro E Basilico' – Italian ...

@ Hendon, full address provided upon booking
'Pomodoro E Basilico' – Italian ...
@ Hendon, full address provided upon booking
Oct 19 @ 6:30 pm – 9:30 pm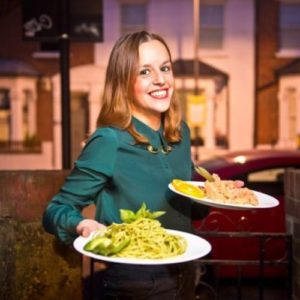 The JVS presents 'Pomodoro E Basilico' – the popular London vegan Italian supper club run by Sara Mittersteiner.  Sara has been running 'Pomodoro E Basilico' for two[...]
Oct
21
Tue
6:00 pm
Film Club: Chasing Ice

@ JVS
Film Club: Chasing Ice
@ JVS
Oct 21 @ 6:00 pm – 9:00 pm
Join us for the third edition of our film club. We are looking forward to screening Chasing Ice: Acclaimed photographer James Balog was once a skeptic about climate change. But through his Extreme Ice Survey, he[...]
Oct
27
Mon
6:45 pm
The Shmita year and faith approa...

@ Dunstan Road Synagogue
The Shmita year and faith approa...
@ Dunstan Road Synagogue
Oct 27 @ 6:45 pm – 8:30 pm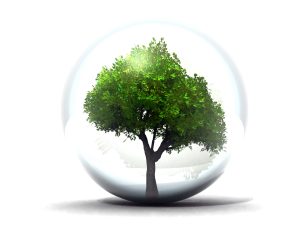 In association with The Jewish Sustainability Movement. Click here to read updated event information. The JSM is a new movement looking to rejuvenate the Jewish community through the connection[...]